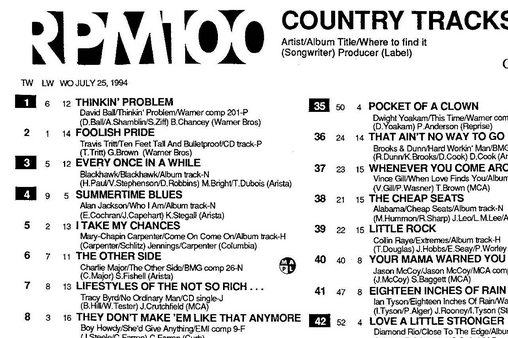 NASHVILLE, Tenn. - (July 25, 2019) – Twenty Five years ago today, Grammy Award winner and multi-platinum selling performing Artist, David Ball, charted at number one on the RPM100 Country Music Chart with "Thinkin' Problem." A fan favorite, it also landed at number two on the Billboard Hot Country Singles & Tracks (now Hot Country Songs) chart. The popular song was produced by Blake Chancey and penned by David Ball, Allen Shamblin and Stuart Terry Ziff and released by Warner Bros. Nashville. The same year it received a nod for a Grammy Award for Best Male Country Vocal Performance at the 37th Annual Grammy Awards in 1995.  "Thinkin' Problem" is available for streaming and download on digital music platforms Spotify, Amazon Music, iTunes and Google Play or on his website davidball.com. 
...Yes, I admit I've got a thinkin' problem 
She's always on my mind 
Her memory goes round and round 
I've tried to quit a thousand times 
Yes, I admit I've got a thinkin' problem 
Fill the glass up to the top 
I'll start with lovin' her 
But I don't know when to stop 
I keep on remembering 
How good it used to be 
Gettin' stoned all alone 
On my favorite memory.. 
""I'm so grateful for all the things that happened to me, all the fantastic people I've met over the years, from this collection of songs. To all the people, from Warner Brothers Nashville, to my record producer Blake Chancey, my sincere thanks for making it happen," said David Ball. "It was a blast for sure." 
Deborah Evans Price, of Billboard magazine reviewed the song favorably calling it a "perfect combination of retro sensibility and '90s production, and a pure honky-tonk delight." 
Ball is currently on his Thinkin' Problem 25th Anniversary Tour, playing more music than ever before from that landmark debut album. You will also hear songs from his 10th studio album, Come See Me (2018), available for download on digital platformsAmazon Music here and iTunes, here and can be ordered from his website davidball.com. 
David Ball Tour Dates: 
7-26-19 - Tulsa, OK - Hard Rock Hotel And Casino 
7-27-19 - Madisonville, TX -National Day of the Cowboy 
8-9-19 - Springfield, MO - Southbound 
8-10-19 - Pocola, OK - Gilly's 
8-24-19 - Fyffe, AL - Fyffe Park Days 
9-7-19 - White Bluff, TN - Bibb Event Center 
9-10-19 - Nashville, TN - The Station Inn / Americana Fest 
9-14-19 - Shelby, NC - The Don Gibson Theater 
9-19-19 - Crossville, TN - Palace Theater 
10-5-19 - Port Charlotte, FL - Over The Bridge 
10-7-19 - The Villages, FL - Savannah Center 
10-10-19 - Spring, TX - Dosey Doe Big Barn 
10-11-19 - Coupland, TX - Old Coupland Inn and Dancehall 
10-12-19 - Kendalia, TX - Kendalia Halle 
10-15-19 - Nashville, TN - American Legion Post 82 
11-2-19 - Green Bay, WI - The Meyer Theater 
11-3-19 - Sauk Rapids, MN - Rollie's Rednecks & Longnecks 
11-14-19 - Dallas, TX - The Kessler Theater 
11-15-19 - Austin, TX - The 04 Center